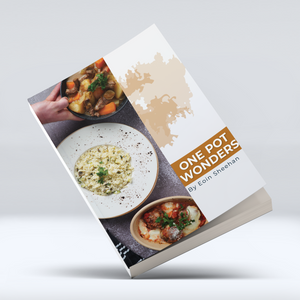 FREE ebook - One Pot Wonders
When we hear the term 'one pot wonders'
we expect a few of the basic's:

1. Minimal cooking equipment
2. Little wash up
3. Delicious meals with little effort

That's what I hope you get from these eight amazing dishes. Whether you are a student starting in college, someone with a small kitchen or simply beginning your cooking journey and looking for easy dishes to get started. The meals should be easy to shop for, easier to prep and most importantly, taste good. 
Contents:
- MUSHROOM & COURGETTE RISOTTO
- CHICKEN & ROOT VEG TRAY BAKE
- PASTA RAGU 
- CLASSIC CARBONARA 
- CHICKEN & CHORIZO PAELLA 
- CHEESY BAKED ITALIAN MEATBALLS
- HOT & SMOKEY CHILLI 
- BEEF GUINNESS CASSEROLE